The Crucifixion and Burial of Jesus
Sent to die a criminals' death
John 19:12-22– From then on Pilate sought to release him, but the Jews cried out, "If you release this man, you are not Caesar's friend. Everyone who makes himself a king opposes Caesar." So when Pilate heard these words, he brought Jesus out and sat down on the judgment seat at a place called The Stone Pavement, and in Aramaic Gabbatha. Now it was the day of Preparation of the Passover. It was about the sixth hour. He said to the Jews, "Behold your King!" They cried out, "Away with him, away with him, crucify him!" Pilate said to them, "Shall I crucify your King?" The chief priests answered, "We have no king but Caesar." So he delivered him over to them to be crucified. So they took Jesus, and he went out, bearing his own cross, to the place called The Place of a Skull [or Calvariæ Locus in Latin], which in Aramaic is called Golgotha. There they crucified him, and with him two others, one on either side, and Jesus between them. Pilate also wrote an inscription and put it on the cross. It read, "Jesus of Nazareth, the King of the Jews." Many of the Jews read this inscription, for the place where Jesus was crucified was near the city, and it was written in Aramaic, in Latin, and in Greek. So the chief priests of the Jews said to Pilate, "Do not write, 'The King of the Jews,' but rather, 'This man said, I am King of the Jews.'" Pilate answered, "What I have written I have written."
Full accounts of the crucifixion can be found in all four Gospels: Matthew 27, Mark 15, Luke 23, and John's crucifixion narrative. Click here for recent confirmatory findings about this gruesome Roman practice.
"Today you will be with me…"
Luke:23:34-34 – And Jesus said, "Father, forgive them, for they know not what they do." And they cast lots to divide his garments. And the people stood by, watching, but the rulers scoffed at him… The soldiers also mocked him, coming up and offering him sour wine and saying, "If you are the King of the Jews, save yourself!" One of the criminals who were hanged railed at him, saying, "Are you not the Christ? Save yourself and us!" But the other rebuked him, saying, "Do you not fear God, since you are under the same sentence of condemnation? And we indeed justly, for we are receiving the due reward of our deeds; but this man has done nothing wrong." And he said, "Jesus, remember me when you come into your kingdom." And he said to him, "Truly, I say to you, today you will be with me in paradise."
"It is finished!"
John 19:24-30 – So the soldiers did these things, but standing by the cross of Jesus were his mother and his mother's sister, Mary the wife of Clopas, and Mary Magdalene. When Jesus saw his mother and the disciple whom he loved standing nearby, he said to his mother, "Woman, behold, your son!" Then he said to the disciple, "Behold, your mother!" And from that hour the disciple took her to his own home. After this, Jesus, knowing that all was now finished, said (to fulfill the Scripture), "I thirst." A jar full of sour wine stood there, so they put a sponge full of the sour wine on a hyssop branch and held it to his mouth. When Jesus had received the sour wine, he said, "It is finished," and he bowed his head and gave up his spirit.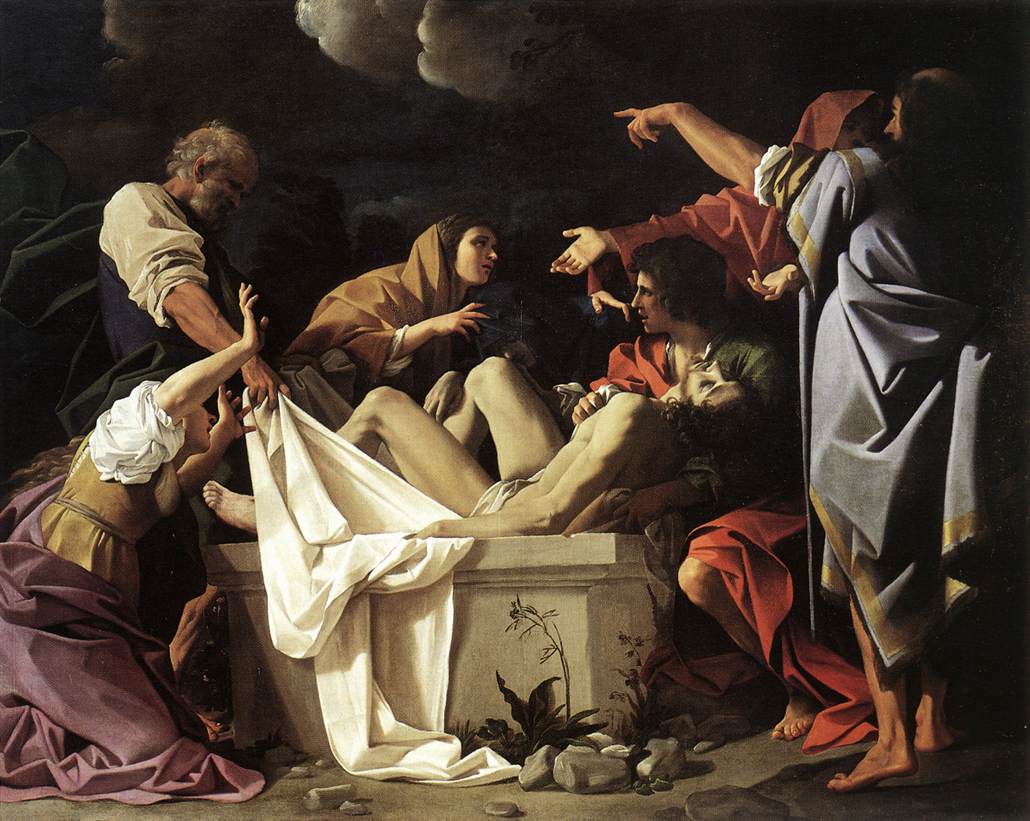 Is this what was spoken of?
My God, my God, why have you forsaken me?
Why are you so far from saving me, from the words of my groaning?
O my God, I cry by day, but you do not answer,
and by night, but I find no rest.
Yet you are holy,
enthroned on the praises of Israel.
In you our fathers trusted;
they trusted, and you delivered them.
To you they cried and were rescued;
in you they trusted and were not put to shame.
But I am a worm and not a man,
scorned by mankind and despised by the people.
All who see me mock me;
they make mouths at me; they wag their heads;
"He trusts in the Lord; let him deliver him;
let him rescue him, for he delights in him!"
Yet you are he who took me from the womb;
you made me trust you at my mother's breasts.
On you was I cast from my birth,
and from my mother's womb you have been my God.
Be not far from me,
for trouble is near,
and there is none to help.
Many bulls encompass me;
strong bulls of Bashan surround me;
they open wide their mouths at me,
like a ravening and roaring lion.
I am poured out like water,
and all my bones are out of joint;
my heart is like wax;
it is melted within my breast;
my strength is dried up like a potsherd,
and my tongue sticks to my jaws;
you lay me in the dust of death.
For dogs encompass me;
a company of evildoers encircles me;
they have pierced my hands and feet—
I can count all my bones—
they stare and gloat over me;
they divide my garments among them,
and for my clothing they cast lots.
But you, O Lord, do not be far off!
O you my help, come quickly to my aid!
Deliver my soul from the sword,
my precious life from the power of the dog!
Save me from the mouth of the lion!
You have rescued me from the horns of the wild oxen!
I will tell of your name to my brothers;
in the midst of the congregation I will praise you:
You who fear the Lord, praise him!
All you offspring of Jacob, glorify him,
and stand in awe of him, all you offspring of Israel!
For he has not despised or abhorred
the affliction of the afflicted,
and he has not hidden his face from him,
but has heard, when he cried to him.
From you comes my praise in the great congregation;
my vows I will perform before those who fear him.
The afflicted shall eat and be satisfied;
those who seek him shall praise the Lord!
May your hearts live forever!
All the ends of the earth shall remember
and turn to the Lord,
and all the families of the nations
shall worship before you.
For kingship belongs to the Lord,
and he rules over the nations.
All the prosperous of the earth eat and worship;
before him shall bow all who go down to the dust,
even the one who could not keep himself alive.
Posterity shall serve him;
it shall be told of the Lord to the coming generation;
they shall come and proclaim his righteousness to a people yet unborn, that he has done it.
Navigation Notes
By continuing to use the Up and Down buttons in the middle you can navigate directly through our timelines. For each timeline we have been taking a detour using the side buttons to investigate events and topics noted in the current chart. In our Passion Week tour we are looking more closely at the activities of this crucial week. Having arrived at His crucifixion and burial, we await with contrite hearts His glorious resurrection and subsequent ascension.