The Great Commission
Mark 16:14- 20 – Afterward he appeared to the eleven themselves as they were reclining at table, and he rebuked them for their unbelief and hardness of heart, because they had not believed those who saw him after he had risen. And he said to them, "Go into all the world and proclaim the gospel to the whole creation. Whoever believes and is baptized will be saved, but whoever does not believe will be condemned. And these signs will accompany those who believe: in my name they will cast out demons; they will speak in new tongues; they will pick up serpents with their hands; and if they drink any deadly poison, it will not hurt them; they will lay their hands on the sick, and they will recover." So then the Lord Jesus, after he had spoken to them, was taken up into heaven and sat down at the right hand of God. And they went out and preached everywhere, while the Lord worked with them and confirmed the message by accompanying signs.
It is as He and the Scriptures promised
Luke 24:44-53 – Then he said to them, "These are my words that I spoke to you while I was still with you, that everything written about me in the Law of Moses and the Prophets and the Psalms must be fulfilled." Then he opened their minds to understand the Scriptures, and said to them, "Thus it is written, that the Christ should suffer and on the third day rise from the dead, and that repentance for the forgiveness of sins should be proclaimed in his name to all nations, beginning from Jerusalem. You are witnesses of these things. And behold, I am sending the promise of my Father upon you. But stay in the city until you are clothed with power from on high." And he led them out as far as Bethany, and lifting up his hands he blessed them. While he blessed them, he parted from them and was carried up into heaven. And they worshiped him and returned to Jerusalem with great joy, and were continually in the temple blessing God.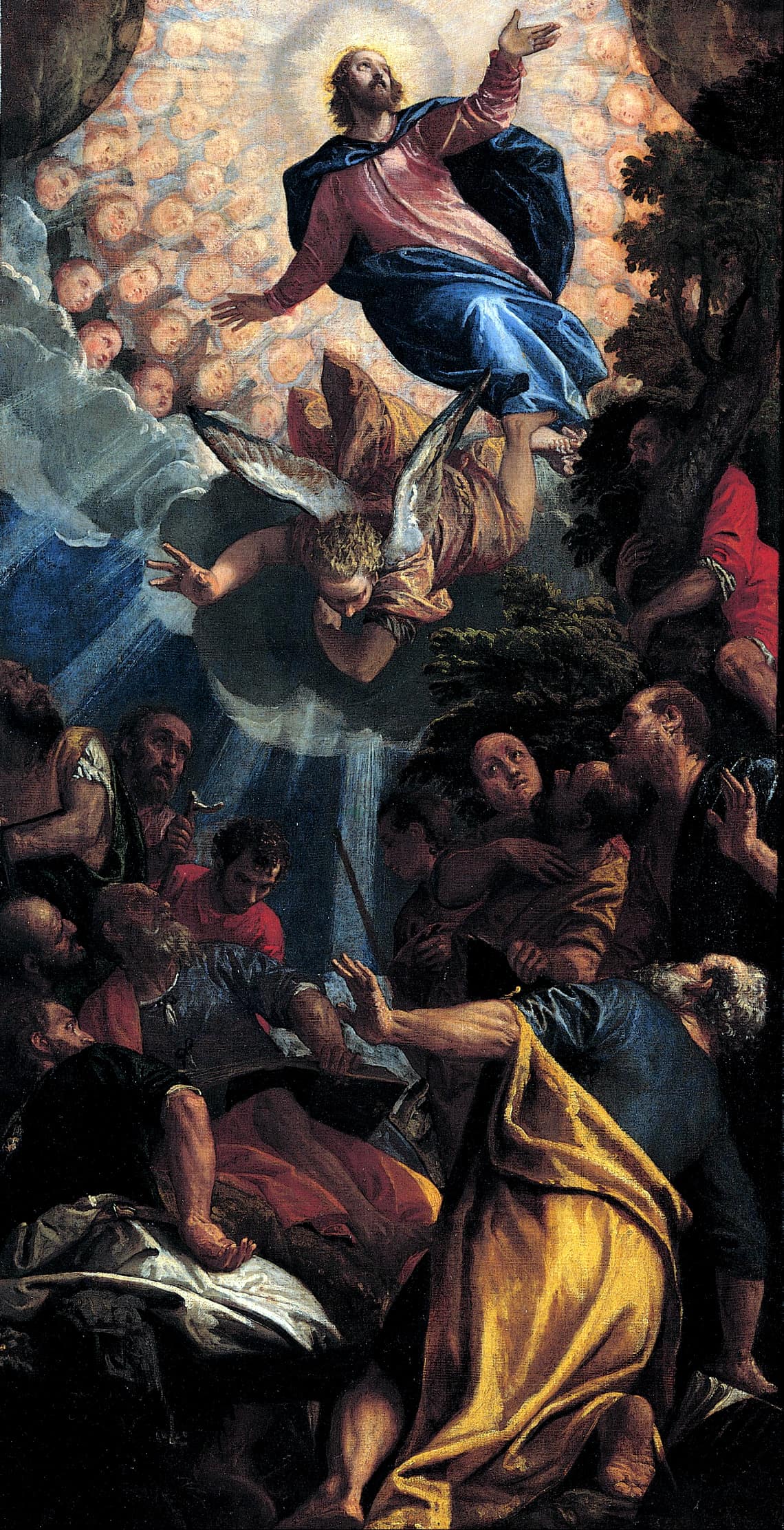 Two men in white robes
Acts 1:10-12 – And while they were gazing into heaven as he went, behold, two men stood by them in white robes, and said, "Men of Galilee, why do you stand looking into heaven? This Jesus, who was taken up from you into heaven, will come in the same way as you saw him go into heaven." Then they returned to Jerusalem from the mount called Olivet, which is near Jerusalem, a Sabbath day's journey away.
The promise and power of the Holy Spirit
Acts 1:4-9 – And while staying with them he ordered them not to depart from Jerusalem, but to wait for the promise of the Father, which, he said, "you heard from me; for John baptized with water, but you will be baptized with the Holy Spirit not many days from now." So when they had come together, they asked him, "Lord, will you at this time restore the kingdom to Israel?" He said to them, "It is not for you to know times or seasons that the Father has fixed by his own authority. But you will receive power when the Holy Spirit has come upon you, and you will be my witnesses in Jerusalem and in all Judea and Samaria, and to the end of the earth." And when he had said these things, as they were looking on, he was lifted up, and a cloud took him out of their sight.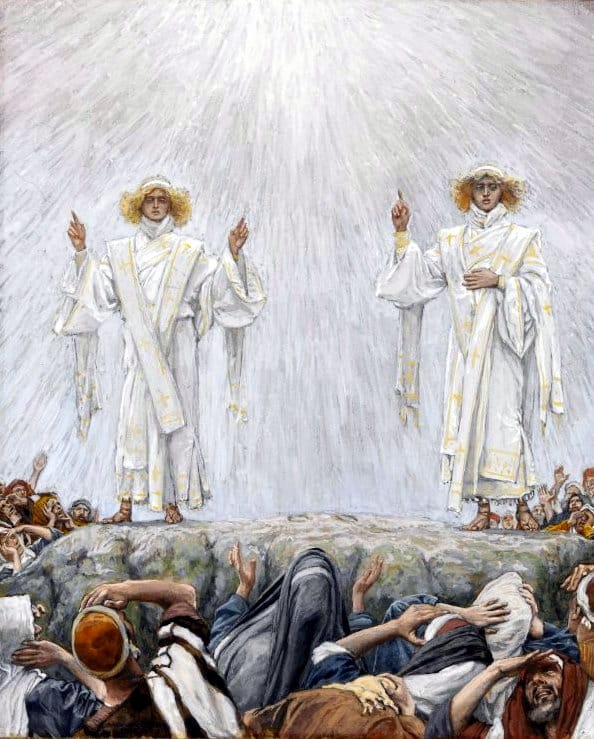 Returning to Jerusalem
Acts 1:12-14 – Then they returned to Jerusalem from the mount called Olivet, which is near Jerusalem, a Sabbath day's journey away. And when they had entered, they went up to the upper room, where they were staying, Peter and John and James and Andrew, Philip and Thomas, Bartholomew and Matthew, James the son of Alphaeus and Simon the Zealot and Judas the son of James. All these with one accord were devoting themselves to prayer, together with the women and Mary the mother of Jesus, and his brothers.
It was now one day after Jesus had ascended, 41 days after His resurrection, and 43 days after Passover had begun on Nisan 15. The entire Hebrew population was entering into the last week of the Counting of the Omer on their way to the annual celebration of Shavuot on the 50th day. Jewish people from all over Israel and the surrounding nations were beginning to gather in Jerusalem for the harvest feast of Pentecost. Jesus had just instructed His disciples to wait in Jerusalem for the promise of the Holy Spirit, and there was a sense of great anticipation rising in their midst as they gathered, prayed, and waited. Little did they know that the Great Commission He had given them was on the verge of exploding with dramatic power from on high. The Kingdom of God was about to invade and pervade the world in an unprecedented and never-ending way!
Navigation Notes
By continuing to use the Up and Down buttons in the middle you can navigate directly through our timelines. For each timeline we have been taking a detour using the side buttons to investigate events and topics noted in the current chart. In our Passion Week tour we have been looking more closely at the activities of this crucial week. Having arrived at His crucifixion, burial, amazing resurrection, and remarkable commissioning, we are now prepared to look more closely at what happened after He ascended.