What timetable will events follow?
Clearly, this is an area of profound speculation that human beings have been contemplating and studying throughout history. What we know from reading Scripture is that the Day of the Lord will come, but when? Let's listen to what Jesus had to say when his disciples asked him the same question:
But concerning that day and hour no one knows, not even the angels of heaven, nor the Son, but the Father only. For as were the days of Noah, so will be the coming of the Son of Man. For as in those days before the flood they were eating and drinking, marrying and giving in marriage, until the day when Noah entered the ark, and they were unaware until the flood came and swept them all away, so will be the coming of the Son of Man. Then two men will be in the field; one will be taken and one left. Two women will be grinding at the mill; one will be taken and one left. Therefore, stay awake, for you do not know on what day your Lord is coming. But know this, that if the master of the house had known in what part of the night the thief was coming, he would have stayed awake and would not have let his house be broken into. Therefore you also must be ready, for the Son of Man is coming at an hour you do not expect.

Who then is the faithful and wise servant, whom his master has set over his household, to give them their food at the proper time? Blessed is that servant whom his master will find so doing when he comes. Truly, I say to you, he will set him over all his possessions. But if that wicked servant says to himself, 'My master is delayed,' and begins to beat his fellow servants and eats and drinks with drunkards, the master of that servant will come on a day when he does not expect him and at an hour he does not know and will cut him in pieces and put him with the hypocrites. In that place there will be weeping and gnashing of teeth.          Matthew 24:36-51
Theologians and scholars have multiple, rather clearly defined (see Millennialism), perspectives on what happens during this time and how and in what manner God is involved in human affairs. The three main viewpoints (Premillennialism, Amillennialism, and Postmillenialism) are depicted in the charts below, with the first divided into Historic and Dispensational. Click here for a brief article outlining the differences. Or click here to read a much more detailed research article which goes into the history of the development of each viewpoint and discusses the critical differences between them in how they approach the subject of the role of Israel and the Hebrew people between the time of Christ's first and second comings.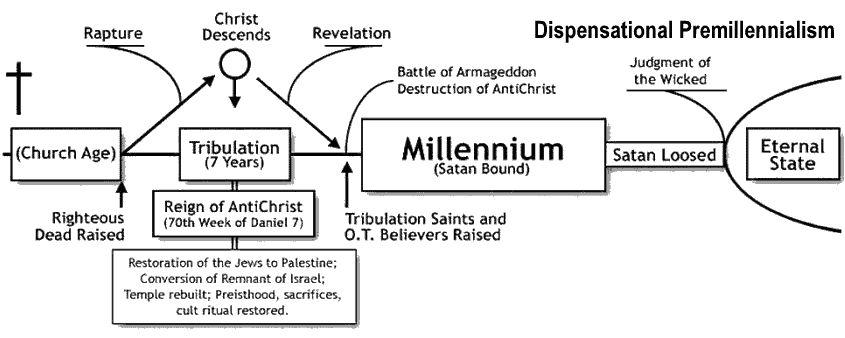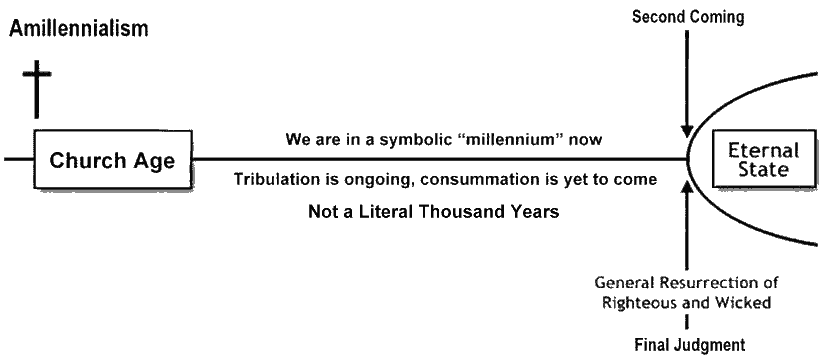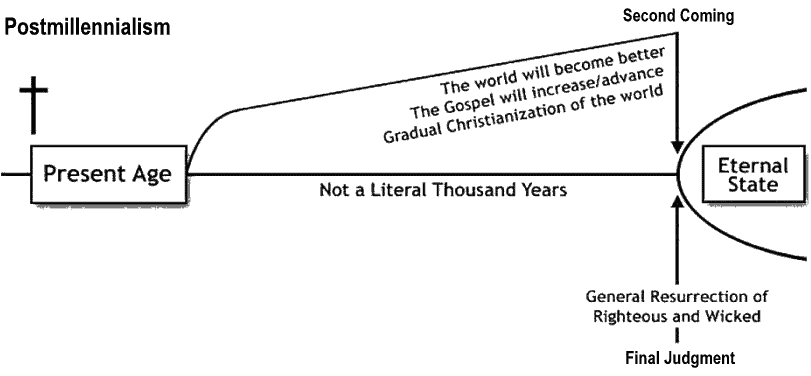 What we will be covering here
Following our beginning "Alpha" and middle "Kingdom" sections, our last or "Omega" section will cover from where we are now on into the future. His Kingdom and Us favors the Historic Premillennial viewpoint and, as such, will examine the Great Tribulation as an upcoming time in history, followed by the establishment and course of the Millennial Kingdom, and concluding in the final culmination of human history at the End of the Age. It's clear that human society has gone through some serious transitions, both positive and negative, over the millennia leading up to where we are today. Unfortunately, as human beings and as societies, we have a tendency to learn some things that we later forget and have to learn all over again.